Mike and Diane Hagerman of New Virginia, Iowa, walk through the Holliwell Bridge, one of the historic ­covered bridges made famous in the movie The Bridges of Madison County.
Photo by Jessica Smith, Cover of APHA Journal
map added 8/16/2013
We'll see how this map works......
It should read # of independent web site views.
click on the map to enlarge and see more information
This counter reads web site 'page views'.
This counter was reset 2/21/2012
Diaman H
Home of Ris Key Business
The world reknown, and forever loved,
Ris Key Business
1984 - 2012 RIP
Ris Key Business
RisKey's last days......
UPDATE: July, 2012
I have now put every horse we own at this web site....over 100 head of horses....all with photos, pedigrees, and prices.
With Ris Key gone, so is our desire to continue this breeding program. Oh, we'll always have some horses.....but not many. Not any more. The web site is being revised (mostly done now), and prices have been reduced - up to 75% on some horses. Package deals still available, plus we are getting some loads put together for hauling.
Update: October, 2012
We have found new homes for almost 1/3 of our herd (not counting the 27 weanlings) in the last 3 months. Several broodmares and most of the yearlings (2011 foals) have been sold.
Update: May, 2013
We have reduced numbers to approximately half of the original herd. Now only 66 horses left - with sale pending on 4 of those) Obviously, numbers will increase (temporarily) now that the 2013 foals are coming.....
Thank you to everyone that has been calling and emailing on our sale horses. The response has been amazing!
Contact info, driving directions.....bottom of page
No images or descriptions may be reproduced without the permission of the owner of this web site.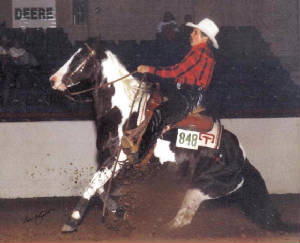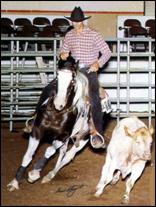 Performer:
9 National Titles
3 World Titles
3 Honor Roll Championships
RIS KEY BUSINESS
3 Time Honor Roll Champion
No. 4 Lifetime Leading Reining Stallion*
No. 12 Lifetime Point Leader (reining)**
ROMs in Open Reining, Western Riding,
Working Cow Horse and Amateur Reining,
Cutting Points
*as per APHA records 1964-1990
**as per APHA records 1964-2000
NRHA money earner and Honor Roll Stallion
Producer:
***SIRE*** OF:
#1 - Open lifetime point leader - calf roping
#4 - Open lifetime point leader - calf roping
#1 - Open lifetime point leader - heading
#3 - Open lifetime point leader - heading
#1 - Open lifetime point leader - heeling
#2 - Open lifetime point leader - heeling
#1 - Open lifetime point leader - steer stopping
#2 - Open lifetime point leader - steer stopping
#1 - Open lifetime point leader - working cow horse
***As per APHA records 1964- 2000
**Leading sires list:**
#3 World Championships earned
#3 World Championship earners
#8 Reserve World Championships earned
**As per APHA records 2001
*SIRE OF*:
26 ROMs
(reining, working cow, western riding, calf roping/tie down, heading, heeling,
steer stopping/break away, western pleasure)
11 Superiors
(calf roping, heading , heeling, reining, steer stopping, breakaway, working cow horse)
11 World/National Championships
8 Reserve W/Nat. Championships
.......AND STILL COUNTING.........
**
Ris Key Business
Ris Key Business is a 1984 APHA black/tobiano stallion by Cheyenne Moon Bar and out of Happiness Is.
He is the APHA World Champion working cow horse, Amateur Reining and Open Reining Sweepstakes, Two-Time Reserve National Champion Open Reining, No. 4 Lifetime-leading Reining Stallion, Points Earned, Three-Time Honor Roll Champion - Superior Reining, World Show Reining Top 10 - 5 Times, ROMs in Open Reining, Western Riding, Working Cow Horse and Amateur Reining - Points in Open Cutting and Amateur Western Riding - APHA Futurity. First Go - Res. World Champion Non-Pro Reining Sweepstakes. Weanling Halter. Multi Leading Sires List.
Ris Key Business is also a Pt Horse Assoc. 6-Time National Champion - Open Reining and Reining Sweepstakes, Amateur Reining and Working Cow Horse, ROMs in Open Reining, Open Working Cow Horse, and Amateur Reining.
Ris Key Businessís offspring have an outstanding performance record. They hold such titles as: Multi Lifetime Top 10 and #1 Leading Horses, Multi World Show title holders. Multi World Show Top 10. Congress All-Around Performance Champion and Reserve Champion World Show Western Performance Champion, Oscar Crigler Cattle Performance Champion, Futurity finalists, Multi Superiors, Multi ROMs and Points, Multi Honor Roll Champions, Multi Honor Roll Top 10, TRHA, NRHA, PTHA, OCAP, & Open Show Point and Money earners, Performance and Halter Champions, Honor Roll Champions and Top 10.**
**copied directly from the NRCHA web site**
2005 NRCHA (reined cow horse) leading paternal gsires list
Breeding fees -
private treaty,
limited book,
approved mares only. Substantial discounts(50%) in 2012 for money earners/producers ....as well as multiple mare and early booking discounts.
Frozen semen available through Iowa State University. Additional fees to be paid to ISU for shipping/container fees, etc.
This stallion is not only a multiple world champion, he has sired multiple world champions (including Strait From Texas, RR Riskymastrpiece, Capital Business, Another Risk) as well as his share of money earners (Risque Zipper has won $100,000 + two trucks, trailer, 5 saddles in team roping with the Smith brothers -13 year old Clay and 11 year old Jake) His babies are in BIG demand.....and a granddaughter of his just sold for in excess of $30,000 at the World Show.
Ris Key's most recognized sons are probably Strait From Texas and RR Riskymastrpiece as they dominated the cow horse arenas for many years - to the extent they were usually ranked #1 and #2 in all the roping events as well as working cow horse events.
Strait From Texas-
May 1992 - March 2006 Former all time Open Point Earning Stallion in APHA history with 2130.0 points. First stallion in APHA history to earn 2000 plus open performance pts. Shown in 53 APHA shows avg 40+ pts/show NRCHA, APHA Money earner. 4x World Champion & 4x Reserve World Champion, 6 APHA Roms & 6 Superiors in Reining, Heeling, Heading, Calf Roping, Steer Stopping and Working Cowhorse 1997 & 1998 #1 Horse in the Nation 16 Time Honor Roll Horse Champion 1997,1998 & 2001 APHA World Show Oscar Crigler Cattle Award Winner - Only horse in APHA History to with it 3x! 1996 &1998 APHA Worldwide Paint Horse Congress Superhorse. As of 2010 #1 APHA Open Lifetime Pt Leader in Working Cowhorse,#2 Heading,#3 Steer Stopping, Heeling & Tie Down Roping. Half interest in horse reported to have sold for $1 million.
RR Riskymastrpiece
2001 - APHA World Champion Calf Roping
1999 - APHA World Champion Heeling
1999 - APHA World Champion Steer Stopping
Superior in Calf Roping, Heading, Heeling, and Steer Stopping
ROM in Working Cow Horse
Points earned in Halter, Reining, and Trail
1700+ Points earned as of 2001
#1 in Open Performance in 2000
#2 in Open Performance in '99 & '98
Producer of ROM earners in Reining, Heading, & Heeling and Certificate of Recognition in Halter.

There is a reason why Ris Key Business is featured in the book, "More Than Color" and is commonly referred to as 'The Legend Maker'
TAKE THIS UNIQUE OPPORTUNITY TO BREED TO A STUD THAT IS NOT ONLY AN APHA LEGEND, BUT IS THE SIRE OF APHA LEGENDS.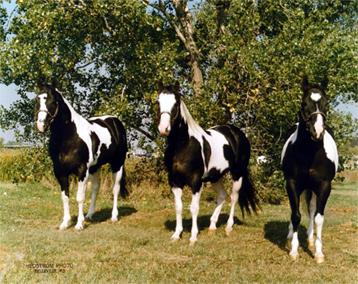 Ris Key Business standing between his
two most famous sons:
Strait From Texas and RR Riskymastrpiece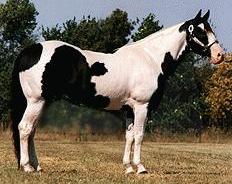 Ris Key was in his late teens when these photos were taken.
Even at his advanced age, you can see why he was a halter champion in his younger days!
How'd you like to have him put THOSE muscles and THAT head and ear on YOUR babies!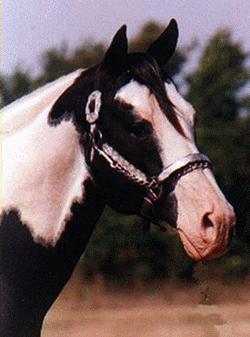 We are a small family operation situated in the gently rolling hills of south central Iowa.
We are ideally located just minutes south of the I-80/I-35 interchange in W.Des Moines. We are easily accessed from anywhere in the U.S.

Our broodmare band consists of daughters of reknown AQHA/APHA reiners/cutters and/or APHA Champions including: Color Me Smart, Delta Flyer, Doc Doll, Trashadeous, Like A Diamond, Holidoc, Delta Olena, JR Colord Rambo, Docs Malbec, Kenos Jackpot, Freckles Playboy, A Tru Rolex, Strait from Texas, Mr Big Heart, QT Poco Streke, Zippo Pat Bar, Roulettes Hit Man, Bar Money, Hotshot Hancock, Lil Peppy Sugar Bar, Movin To The Music, Strait Gunsmokensugar, Bar B Paint...and now...several daughters of Ris Key Business
Also includes granddaughters of Doc Bar, Docs Solano, Doc Olena, Colonel Freckles, Peponita, Hollywood Dun It, Peppy San Badger, Music Mount......
Look over every page as virtually all our horses are priced. If you don't see what you are looking for, email and let us know. We have access to many additional horses through friends and business associates.