$4000

This mare can be purchased, after her 2017 foal is weaned, for $3250. **UPDATE - now confirmed in foal to Pepsis Color Master. $3750 and the 2018 foal is yours. For $3250 we will retain right to that foal.** We WILL ask for a 'first right of refusal' on this mare, since she is such a sweet girl. She can be bred to your choice of stallions if you purchase her before we get her in foal for 2018. This breeding is included in her purchase price.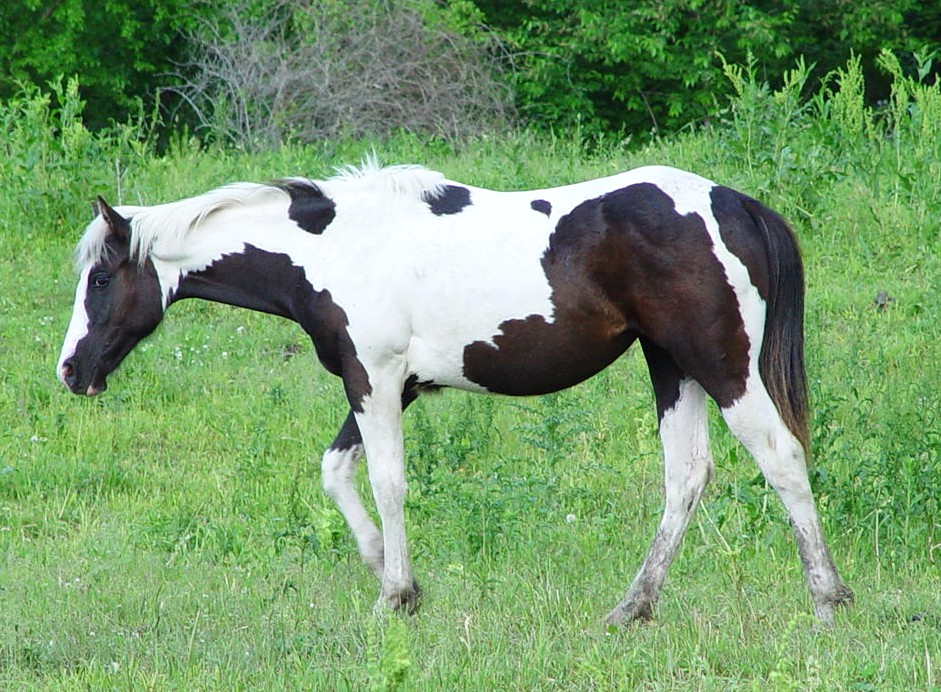 xxxxxxxxxxxxxxxxxxxxxxxxxxxxxxxxxxxxxxxxxxxxxxxxxxxxxxxxx








2013 Bay roan tobiano filly
Dam: Diaman H LilTuff Risk (daughter of Ris Key Business o/o dtr of NRHA performer - Lil Tuff Peppy/Peppy San Badger)
Sire: Colored Me Blue (by Color Me Smart o/o full sister to Peptoboonsmal)
She's probably only going to be 14.1 or 14.2 at maturity (from the looks of things now)She is healthy and sound, but does have a 'roach back'. Does not affect her riding ability.
$1750/offer
**CONFIRMED in foal to QTsGold MasterCard for 2018. Guaranteed either a hz tobiano or a roan tobiano foal....
Baron Bark Mindy
AQHA #4937795
2007 red roan mare
Sire: Fancy Red Bark (gson of Fancy Roan Bark and Roan Bar)
Dam: Dolly Bar Baron (gdtr of Mr Baron Red and Jack Eyed)
Baron Bark Mindy
Fancy Red Bark

Red Cedar Bark
Fancy Roan Bar
Jenny Lee Bark
Susie Bell Bar

Roan Bar
Frankie Baker
Dolly Bar Baron
Mr Leo Bar Baron
Mr Baron Red
Watch Honey Bar
Lovelys Doll

Jack Eyed
Sure Lovely
Pedigree generated by PedigreeQuery.com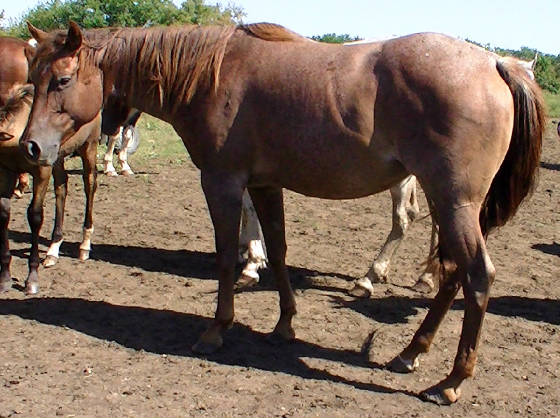 Price reduced on this mare to $350. She has a foal by her side (born beginning of June, 2014), so will not be available until September. She is a nice, gentle mare. Good sized (15.1 or so) with great conformation and a pretty little head and ear. She gave us a very nice buckskin roan filly in 2012 and a buckskin dun colt in 2014. Both of excellent quality. She was leased out the fall of 2012 and was started lightly under saddle. I do NOT know how much riding they got done on her, so we are selling her ONLY to someone that either has a trainer, or has experience either breaking, or riding a green horse.
We are selling her because she is no longer eligible as a broodmare. We were advised this past spring - by owners of Fancy Red Bark offspring that tested positive with PSSM - to test her. She did come back as N/P1, so no more foals for her. While she is not symptomatic, there will never be any guarantee that her foals will not be - REGARDLESS of what stallion she is bred to - as PSSM is a dominant gene. The affects of PSSM can be severe/painful enough to require euthanasia.
Mindy requires no special care, as I said, she in non symptomatic. She is kept on pasture 24/7, where she can self exercise and we do not feed grain to most of our broodmares. Those are pretty much the rules of caring for any horse with the potential to 'tie up' (the generic term for PSSM.)
Currently priced at $350.
Offers will be considered if she's not gone by the time we wean in September.
**September update**
>>>>>WE HAVE WEANED THE FOAL AND FOUND A PERMANENT HOME FOR THIS MARE<<<<