Diaman H Straits Boon
April 17th, 2012
blue roan tobiano colt
Dam is 'Strait' - black tobiano daughter of Strait From Texas by Ris Key Business
See her on the APHA mares page
Sire is Colored Me Blue
(BY Color Me Smart o/o full sister to Peptoboonsmal)


This is a GREAT looking, well mannered stallion with an impeccable cow horse pedigree. AS a roan tobiano, he guarantees ALL of his foals will have 'color' in that he will always throw the roan on his foals, OR the tobiano. Always....

While we will have a few foals from "Boon" in 2016, he will not be available for the 2016 breeding season. He is currently in training with Jack Wright, of Penrose, Colorado. (30 world and reserve titles in competitions including the 2014 American Paint Horse Association world championship, high point all-around horse, high point all-around reserve horse, high point Western horse and the high point exhibitor award)

**UPDATE - after nearly 2 full years in training, Boon was ready (and qualified) to show at the 2017 APHA World Show. Unfortunately, right before the show, our trainer broke his arm and (as a roping specialist) he was not able to compete on ANY of his client's horses. We brought Boon home and have decided not to continue training/showing. We have also cut his price in half to $10,000
DNA results: N/TO, a/a, E/e
5 panel tested clean
$20,000
**NOW REDUCED TO $10,000**


Color Me Smart
$3M NCHA Sire

{

Smart Little Lena
{
Doc O'Lena
Smart Peppy
Dox Painted Lady
{
Doc's Solano
Bottoms Up

My Angel Of Blue

{

Peppy San Badger
{
Mr San Peppy
Sugar Badger
Royal Blue Boon
{
Boon Bar
Royal Tincie
Strait Miss McCue
Strait From Texas

Ris Key Business
Cheyenne Moon Bar
Happiness Is
Gunnes PollyAnna

Hollywood Smoke
Golly Polly
Hunter McCue
King Stormy McCue
Kingfisher McCue
Saucey Miss
Miss Little Joe Jet

Watch Joe Jet
Miss Pabletter Bar
Pedigree generated by PedigreeQuery.com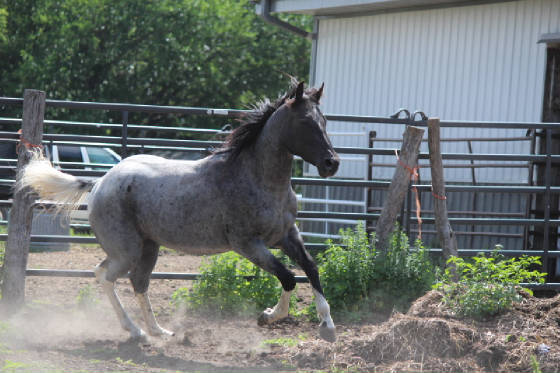 NO RISK (APHA # 923,380)
2007 black tobiano.
Sire: Ris Key Business
Dam: A Shot of Faith (Shots Flying Spark)
($10,000)
No Risk is a homozygous black, homozygous tobiano SON of Ris Key Business. No Risk is well broke - very quiet and gentle.
As of 2015 he has never bred a mare.
If he's still here in 2016......you KNOW that's going to change. ;-)
Yeah, I know. We really aren't needing anymore Ris Key Business bred horses.....but seriously.....how could we 'pass' on this guy?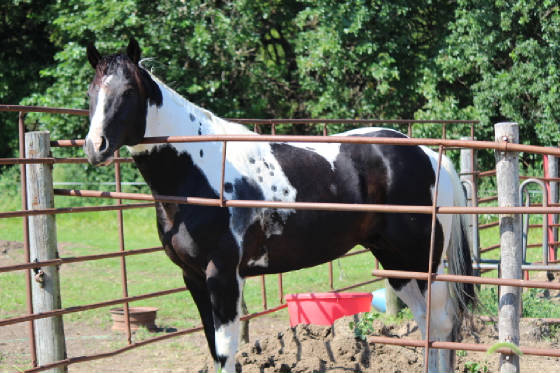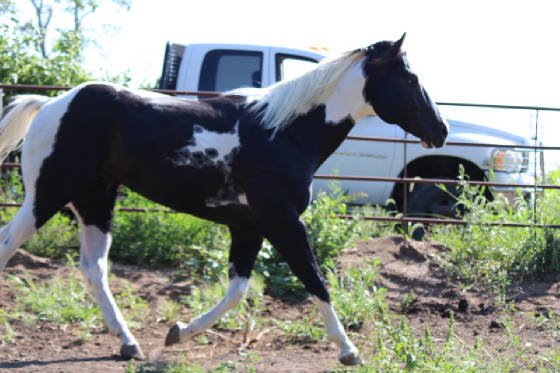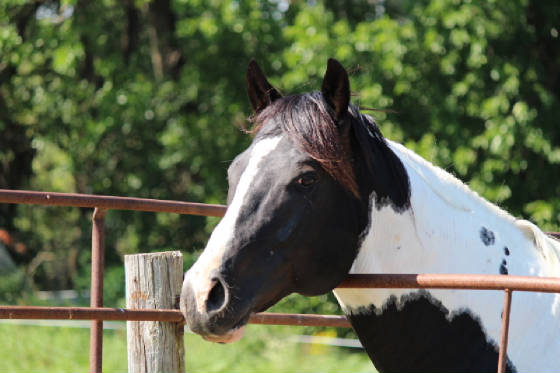 XXXXXXXXXXXXXXXXXXXXXXXXXXXX
Pepsis Color Master
This is the photo that caused us to go look at Pepsi, as our next stallion prospect.
2006 dunskin tobiano stallion (registered dun, but also has cream/buckskin gene)
homozygous tobiano
homozygous black
heterozygous agouti, dun, cream
Just received test results back for the 5 panel test of genetic anomalies and he's negative for them all. Also negative for LWO.
Sire: Quixotes Mastrpiece (point earning son of RR Riskymastrpiece o/o dtr Doc Quixote)
Dam: Poco Nifty (by Pepsi Poco)
($15,000)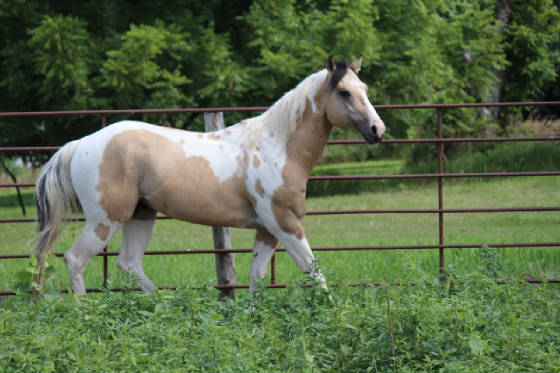 Pepsi - July 16, 2014.
Just completed his first breeding season for us.
Looking forward to the 2015 foals!!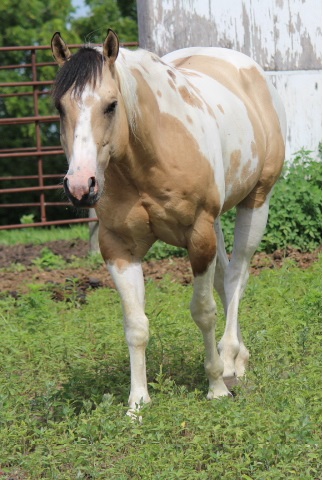 When I began the search for our next stallion, I had two bloodlines I wanted to avoid. I did not need more Ris Key in the bloodlines, nor did I want one other particular APHA cowhorse bloodlines. Right now I am thrilled that I waited for what looks to be an almost perfect stallion. The only thing that makes this guy 'almost' perfect is because I was specifically looking for an outcross for our daughters of Ris Key, so - as stated earlier - I did NOT want Ris Key in the new stallion's pedigree. After a LOT of searching, it turns out that's kind of hard to do if you are looking for a well bred tobiano 'cow horse'. While some of our best horses have been (and still are) double bred (up close) Ris Key horses, we've also had a couple of breedings that we would not repeat. And when you get to the triple bred horses....well, everyone has their own opinion on how close is 'too close' and how many times is 'too many times' .... but responsible breeders do consider it 'in breeding' when the pedigree has the same name more than twice on the actual registration papers - ESPECIALLY if you are mating half/full siblings and/or mating back to dam/sire.
On the plus side of the pedigree, if we are the home of the Ris Key Business horses, it makes sense to stand another Ris Key bred stallion, even if it is a bit further back on the papers. Pepsi is Ris Key's great grandson, so he won't put the Ris Key name on his offspring's papers.....and that makes him genetically diverse enough to cross back on our daughters of Ris Key. Plus his grandsire is one of Ris Key's best sons....RR Riskymastrpiece.... (and quite possibly would have been just as well known as his paternal brother - Strait from Texas - if he didn't have to compete directly against him and/or been campaigned/marketed harder) Pepsi's performing sire (roping) is out of a daughter of Doc Quixote (who I consider one of Doc Bar's greatest sons), and Pepsi's dam is a daughter of the great foundation sire - Pepsi Poco...
So...in a nutshell, Pepsi's sire is a point earning son of one of the most talented horses of all time - RR Riskymasterpiece, and his dam is a daughter of Pepsi Poco. You will find RR Riskymastrpiece, Doc Quixote, Doc Bar, Pepsi Poco, Cutter Bill, Q Ton Ace, and Ris Key Business for names on papers and relatively close 'goes back to'.
Gonna be hard to beat this pedigree with overall strength on both the topside and the bottom.
This guy has - by far - the best conformation of any of the stallions I was looking at. Love, love, LOVE his beautiful head and fox ears. This guy also has the best overall pedigree of any of them, in addition to the best color genetics. Because he is buckskin and dun and homozygous for black and tobiano, most of his foals will be 'triple colored'. Regardless of color of mare (disregarding gray), the overwhelming majority of his foals will be grullo, smokey grullo, dun, buckskin, dunskin, black or smutty black...and will always be tobiano. A slight percentage will be bay tobiano.
Want to see what color Pepsi will produce when bred to YOUR mare? Be sure to fill in homozygous tobiano TOTO, homozygous black - EE, heterozygous agouti - Aa, heterozygous cream - CR, and heterozygous dun - DN for Pepsi's color genetics on the chart. If you don't get over 75% chance of 'triple color' you didn't fill in the chart correctly for Pepsi.
One last thing to mention (and I didn't know it until he got here) he is a super, super sweetheart. Excellent manners, great disposition. Did I mention how lucky we are??
2016 stud fee - $500
discount to approved point earners/producers.
$100 discount if booking fee is received before January 1st.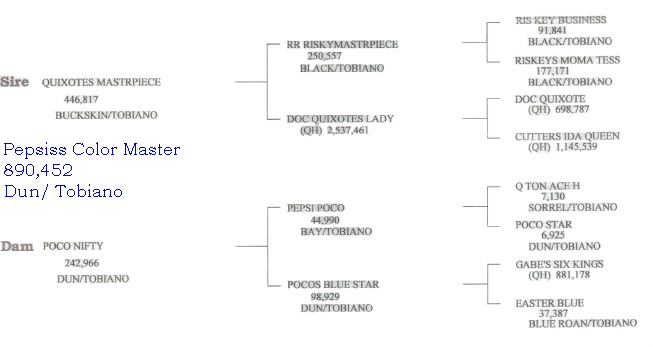 Maternal Grandsire:
PEPSI POCO
bay tob 15.1 H
Sire of NRHA Multiple Bronze Trophy winner and money earner. APHA Champion, ROM and SUP Reining and WP offspring, ROM performers in WP, Reining, Trail and point earners in BR, PB, WH, Trail, Reining, WP, Working Cow Horse and APHA high point reining sire.
Q TON ACE H
sor tob
ROM WP, NSBA Hall of Fame and Sire of 66 performers, AQHA Champions, World Champions, ROM & SUP offspring in WP, HUS, WHO, HSE, SAH, WR, and HLT
Dam
POCO STAR
dun tob
APHA Halter Point earner, and res. Grand Champion at Halter. Dam of offspring earning ROMs and Points in Halter and Performance events
Maternal Grand dam
POCOS BLUE STAR
dun tob
Dam of 2 Performers include Pepsi San Man Halter point earner and ROM Reining and Puddle Jumper ROM in Reining
Paternal Grandsire:
RR Riskymastrpiece
2001 - APHA World Champion Calf Roping
1999 - APHA World Champion Heeling
1999 - APHA World Champion Steer Stopping
Superior in Calf Roping, Heading, Heeling, and Steer Stopping
ROM in Working Cow Horse
Points earned in Halter, Reining, and Trail
1700+ Points earned as of 2001
#1 in Open Performance in 2000
#2 in Open Performance in '99 & '98
Producer of ROM earners in Reining, Heading, & Heeling and Certificate of Recognition in Halter.

Also on papers:
Doc Quixote
AQHA# 0698787

Blaze/R.Hind sock/L.Hind Stocking
NCHA $3,728.96
NCHA COA
1973 NCHA Cutting Futurity Non-Pro Champion
NCHA Hall of Fame Sire.
Sire of:
World Champion
Res. World Champion
Superior Performance
AQHA HI.PT.Perf. Stallion
AQHA Champion
NRCHA Champion
ROM Halter
ROM Performance

Lightning Bar
Doc Bar
Dandy Doll
Doc Quixote
Bull's Eye
Magnolia Gal
Sporty Gal
Doc Quixotes Lady
Buddy Dexter

Cutter Bill

Billie Silvertone
Cutters Ida Queen
Royal King
Royal Ida
Ida Red
---------------------------------------------------------------------------------------------------------------------------------------------------------------------------------------
xxxxxxxxxxxxxxxxxxxxxxxxxxxxxxxxxxxxxxxxxxxxxxxxxxxxxxxxxxxxxxxxxxxxxxxxxxxxxxxxxxxxxxxxxxxxxxxxxxxxxxxxxxxxxxxxxxxxx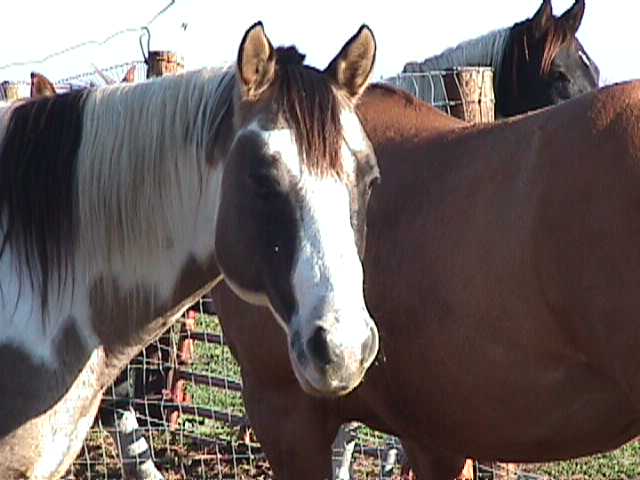 A Breeze of Class
1994 APHA grullo tobiano
SIRE: Ris Key Business- Multiple World Champion, Multiple World Champion Producer
9 National Titles
3 World Titles
3 Honor Roll Championships
RIS KEY BUSINESS
3 Time Honor Roll Champion
No. 4 Lifetime Leading Reining Stallion*
No. 12 Lifetime Point Leader (reining)**
ROMs in Open Reining, Western Riding,
Working Cow Horse and Amateur Reining,
Cutting Points
*as per APHA records 1964-1990
**as per APHA records 1964-2000
DAM: Scottish Heiress - AQHA - own daughter of Weiscamp owned and branded Scottish Cord
Scottish Cord was the ultimate sire. Before his death, at the age of 31, he achieved a remarkable show record, as well as produced AQHA, PHBA and APHA Champions, Youth and Amateur and World Champions.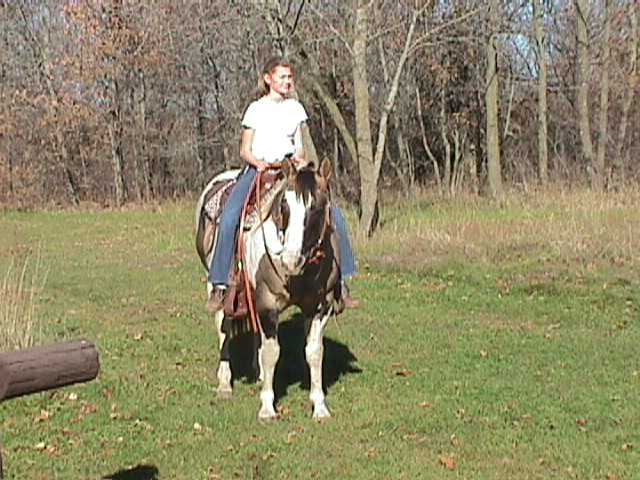 A Breeze of Class
Ris Key Business

Cheyenne Moon Bar
Mr Highland
4 Bars Moon Deck
Happiness Is

Cherokee Siemon
Miss Pioneer
Scottish Heiress AQHA
Scottish Cord
Scottish
String Relic
Amber Heiress

Mr Eternal Bar
Lashawn 6
Pedigree generated by PedigreeQuery.com
'The Breeze' is a muscle bound athlete with a wonderful, intelligent personality. In spite of the fact his immediate pedigree is one of the most popular in the working horse industry today, (overwhelming all competitors in the Roping and Working Cow Horse classes), and his color is the hottest thing going in the APHA, it's his personality that really sets him apart. He is kind and gentle to all other animals as well as people. We take him directly from the broodmare pasture to trail ride with the family. (That's my daughter, at age 12, riding him in the photo) He is a finished rope horse, but has not been used around cattle since we purchased him 17 years ago. He is giving this wonderful intelligence and willing attitude to his offspring.
5 panel testing just completed: Breeze came through. N/N on entire panel
2014 stud fee: $450
(We do have multiple mare discounts.)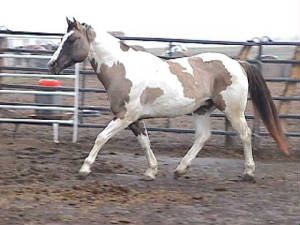 Two of Breeze's most famous siblings (all sired by Ris Key Business)
Strait From Texas-
May 1992 - March 2006 Former all time Open Point Earning Stallion in APHA history with 2130.0 points. First stallion in APHA history to earn 2000 plus open performance pts. Shown in 53 APHA shows avg 40+ pts/show NRCHA, APHA Money earner. 4x World Champion & 4x Reserve World Champion, 6 APHA Roms & 6 Superiors in Reining, Heeling, Heading, Calf Roping, Steer Stopping and Working Cowhorse 1997 & 1998 #1 Horse in the Nation 16 Time Honor Roll Horse Champion 1997,1998 & 2001 APHA World Show Oscar Crigler Cattle Award Winner - Only horse in APHA History to with it 3x! 1996 &1998 APHA Worldwide Paint Horse Congress Superhorse. As of 2010 #1 APHA Open Lifetime Pt Leader in Working Cowhorse,#2 Heading,#3 Steer Stopping, Heeling & Tie Down Roping. Half interest in horse reported to have sold for $1 million.
RR Riskymastrpiece
2001 - APHA World Champion Calf Roping
1999 - APHA World Champion Heeling
1999 - APHA World Champion Steer Stopping
Superior in Calf Roping, Heading, Heeling, and Steer Stopping
ROM in Working Cow Horse
Points earned in Halter, Reining, and Trail
1700+ Points earned as of 2001
#1 in Open Performance in 2000
#2 in Open Performance in '99 & '98
Producer of ROM earners in Reining, Heading, & Heeling and Certificate of Recognition in Halter.

xxxxxxxxxxxxxxxxxxxxxxxxxxxxxxxxxxxxxxxxxxxxxxxxxxxxxxxxxxxxxxxxxxxxxxxxxxxxxxxxxxxxxxxxxxxxxxxxxxxxxxxxx