Wow. Twenty years ago, who'd have imagined we'd be down to our last AQHA mare? What started off as an AQHA program changed dramatically with the purchase of Ris Key's son, A Breeze of Class. Then just a few years later, the purchase of an APHA (cow horse) breeder's dreams, Ris Key Business himself.....
Baron Bark Mindy
AQHA #4937795
2007 red roan mare
Sire: Fancy Red Bark (gson of Fancy Roan Bark and Roan Bar)
Dam: Dolly Bar Baron (gdtr of Mr Baron Red and Jack Eyed)
Baron Bark Mindy
Fancy Red Bark

Red Cedar Bark
Fancy Roan Bar
Jenny Lee Bark
Susie Bell Bar

Roan Bar
Frankie Baker
Dolly Bar Baron
Mr Leo Bar Baron
Mr Baron Red
Watch Honey Bar
Lovelys Doll

Jack Eyed
Sure Lovely
Pedigree generated by PedigreeQuery.com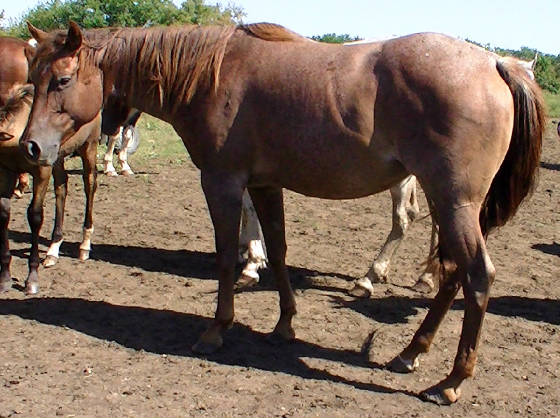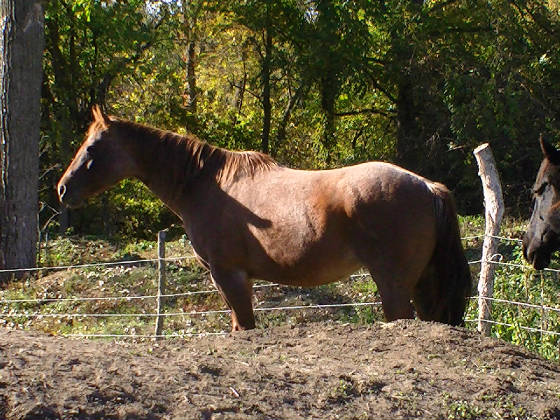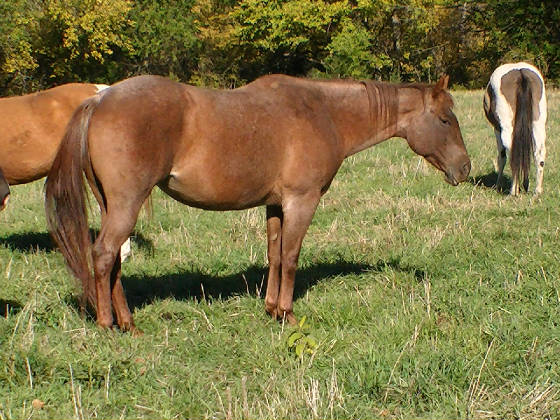 After settling in over the summer - 2011 - Mindy has proven to be a very nice, well mannered, friendly mare.
.
Mindy stands a good 15.1, has heavy, straight bone structure combined with a pretty little head and ear. She also has that pretty red roan coloring that changes by the season...
Mindy has been bred to Bubba and we are expecting a late May foal in 2012.
($1500)
NOW $800. She has been bred to our black homozygous tobiano son of Strait From Texas. We will be looking for a blue roan tobiano foal in 2014.
Price WILL increase as we get closer to spring.
(We have only one filly from Bubba, so we think it might be nice to keep the filly....which means we need to sell the dam, above.)