Diaman H Lucky Joel - AQHA
Black/smokey black colt (now a gelding)
Out of Pages Lucky Miracle (high test race pedigree)
By DH Tardy Joe (15.3 palomino barrel racer/halter)
$1750
30 days under saddle - October, 2012
The trainer loved this one. He's quiet and easy to get along with, but not a 'dead head' plus he has a huge easy stride and really tries to please. With his pedigree he should be a great barrel horse. With his personality, he'll make a great family trail horse. Projected mature height ..... 15.2 .......
There is a lot of horse here.
30 days under saddle - October, 2012
Diaman H Tardy Joe
Roses Flashy Joe

Chicado Joe
Chicado Go
Misty Joe's Girl
Black Faith

Charley Fisher
Mos Gay Flash
Toll Free Trump
Toll Free Tardy
Tuff Order
Jeanie Red Baron
Leada Trump

Lead A Bonanza
Sugar Joy
Pedigree generated by PedigreeQuery.com
Pages Lucky Miracle
Bar Moneys Cody

Three Jets Cody
Three Jets
Mickeys Cody
Moneys Best

Bar Money
Silver Sol
Ante Up Sports Page
Up The Ante
Im a Sports Bar
Danish Easter
Wayflower

Pocket Flower
Vandy Way
Pedigree generated by PedigreeQuery.com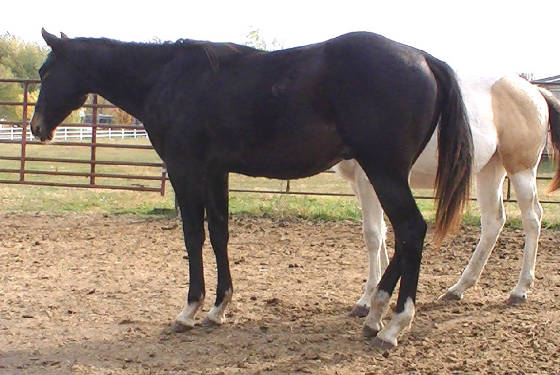 Photos above and below taken fall, 2011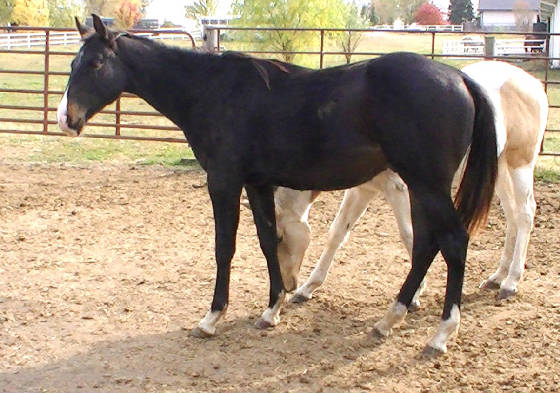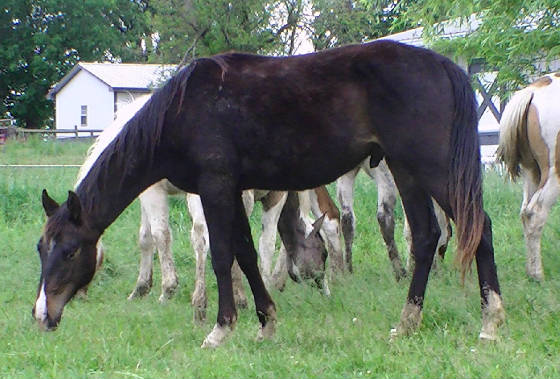 Photo above taken spring, 2012
Photo below taken summer, 2012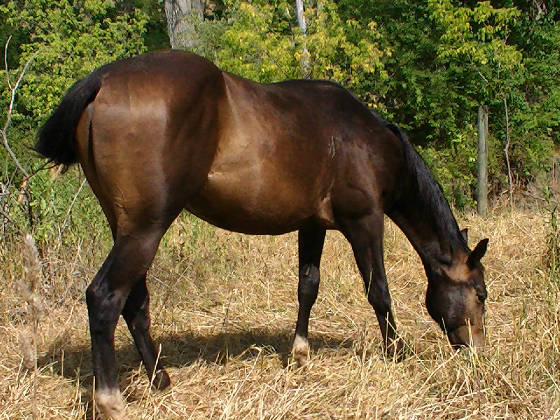 Diaman H Cougarandy
2009 AQHA buckskin gelding
Dam: Awesome Okie Bar
Sire: Diaman H Tardy Joe
($2750)
**SOLD**
April 18, 2013
Diaman H Tardy Joe
Roses Flashy Joe

Chicado Joe
Chicado Go
Misty Joe's Girl
Black Faith

Charley Fisher
Mos Gay Flash
Toll Free Trump
Toll Free Tardy
Tuff Order
Jeanie Red Baron
Leada Trump

Lead A Bonanza
Sugar Joy
Pedigree generated by PedigreeQuery.com
Awesome Okie Bar
Awesome Cougarand

Cougarand
Peppy San Badger
Doc's Yellow Rose
Chica Dallas

Dallas By Six
Zorra Pobre
Peppy Okie Wilson
Wilsons Peppy Doc
Doc Wilson
Peppys Yellow Rose
Miss Fly Away Star

Dopey Star
Fly Away Miss
Pedigree generated by PedigreeQuery.com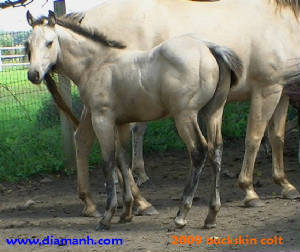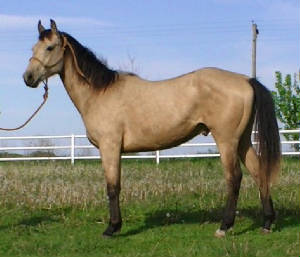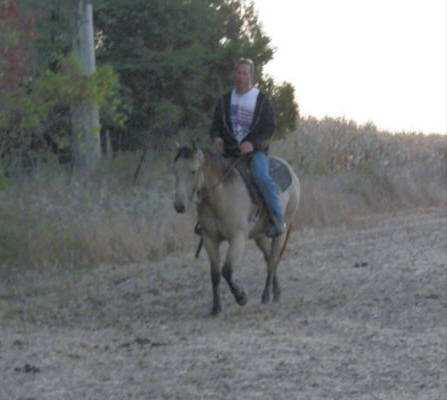 Andy spent 60 days at the trainer last fall and was ridden extensively on trails. He is quiet, he is reliable, and he is a VERY sweet and personable gelding. He will find you in the pasture, even if you just rode him hard for many days in a row. He loves being around people and human interaction. He'll make someone a great riding horse, and I am hoping that person wants a life long companion as well. He deserves a good home. He is NOT for a total novice, nor a small child. He simply needs to be a bit older and probably a bit less playful with age, before I'd let a beginner ride him (except in the arena and/or trainer and/or experienced friend).

He has little, if any, spook. Everything we've asked of him and everywhere we've asked him to go, he takes in stride.

He's had the winter off, and is now back in the arena under saddle. He's not much of an arena horse, since he likes to get out and see things......but he is currently giving lessons (walk/trot) to advanced beginner / intermediate riders.

He sheds to a golden buckskin in the spring and will stay that color if he's not in the sun all day, every day. He will sun fade to almost a buttermilk buckskin color, and his winter coat is in between the two. Basically, what ever color of buckskin you want, you can have.

He's a good horse - and should be a great horse for the right buyer.

Trail riding during 3rd week of training
October, 2012
Two weeks later:
Ruby Wood Jack
AQHA # 4710932
2005 red dun mare
Sire: Fasts Four Wood (by Wilywood o/o dtr of Sun Frost)
Dam: Bunnys Best Jackie (by Mr Rodeo Jack by Two Eyed Jack)
SALE PENDING
Ruby Wood Jack
Fast Four Wood

Wilywood
Orphan Drift
Oui Oui
PCs Lady In Lace

Sun Frost
Redwood Annie
Bunnys Best Jackie
Mr Rodeo Jack
Two Eyed Jack
My Jeanaleta
Miss Sunrise Bunny

Sunrise Dark Jack
TJ Bunny
Pedigree generated by PedigreeQuery.com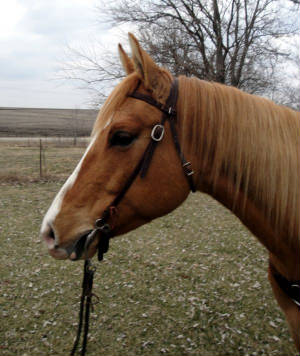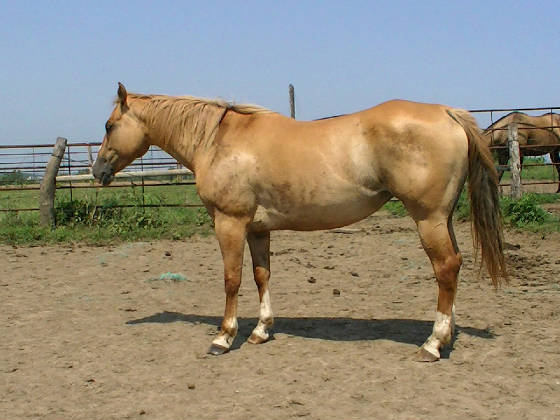 June 3, 2011 Since we have so few AQHA mares right now, we just traded a couple of APHA geldings for this mare. Here is a description from the
previous owners:
We have owned Ruby for four years. She was used as a trail horse as a two and three year old and was ridden by many different riders and then raised two red dun foals for us at age four and five. She is very easy to catch and handle. She is good stalled or turned out. The only reason she is for sale is because we are no longer standing the stallion that we bought her to breed to. Ruby will go where she is pointed whether that be a deep ditch, water, or near traffic. She will neck rein, side pass, and is well broke to ride. Ruby is a very well bred mare with Sunfrost, Orphan Drift, and Two Eyed Jack on her papers. She would make you a great trail horse as well as raise a nice baby for you every year. Ruby is a great mother and sells with an optional free breed to our Bay Roan Two Eyed Jack Stallion (Jacks Our Bartender) for 2011. Mare care not included. This link will take you to her pedigree http://www.allbreedpedigree.com/ruby+wood+jack . We also have a short video of her being ridden around the yard that can be viewed at

Ruby Wood Jack 3/20/2011
Ruby is pretty good sized, height and body. Recently sticked at 15.1.
This mare is now being bred to Bubba. In fact, her first breeding was within a couple of hours of owning her....
She did not cycle past that first breeding cycle. We are expecting a mid May foal from her and Bubba in 2012.
($2500)
2012 red dun colt. NICE!
Mare is NOW priced @ $1750
NOT bred for 2013 as we are seling her as a riding horse.


Diaman H Straits Risk
2007 black tobiano filly
Dam: Strait Miss McCue
(daughter of Strait from Texas
Stallion Show Record for Strait From Texas (APHA)
World Champion
Reserve World Champion
Superior Performance
ROM Performance
Performance Point Earner
Stallion Offspring Record for Strait From Texas (APHA)
World Champion Offspring
Reserve World Champion Offspring
Superior Performance Offspring
ROM Performance Offspring
Working Cow Horse Money-earners
Halter Point Earners

Outstanding Offspring for Strait From Texas (APHA)
Strait Gunsmokensugar (APHA), 716 APHA Pts; World Champion Steer Stopping; Reserve World Champion HD & WCH; WCH LTE: $17,851.67
by Ris Key Business)
Sire: Ris Key Business
**HOMOZYGOUS FOR BLACK**
$4000
**SALE PENDING**
March, 2013
Ris Key Business
Cheyenne Moon Bar
AQHA
Mr Highland
Reed Cheyenne
Cherubs Pine
4 Bars Moon Deck
AQHA
Bruces Moon
Little Sandy Seco
Happiness Is
Cherokee Siemon
Leo San Siemon
Cherokee Maiden
Miss Pioneer
AQHA
Raiders Pal
Poneer Koy
Pedigree generated by PedigreeQuery.com
Strait Miss McCue
Strait From Texas

Ris Key Business
Cheyenne Moon Bar
Happiness Is
Gunnes PollyAnna

Hollywood Smoke
Golly Polly
Hunter McCue
King Stormy McCue
Kingfisher McCue
Saucey Miss
Miss Little Joe Jet

Watch Joe Jet
Miss Pabletter Bar
Pedigree generated by PedigreeQuery.com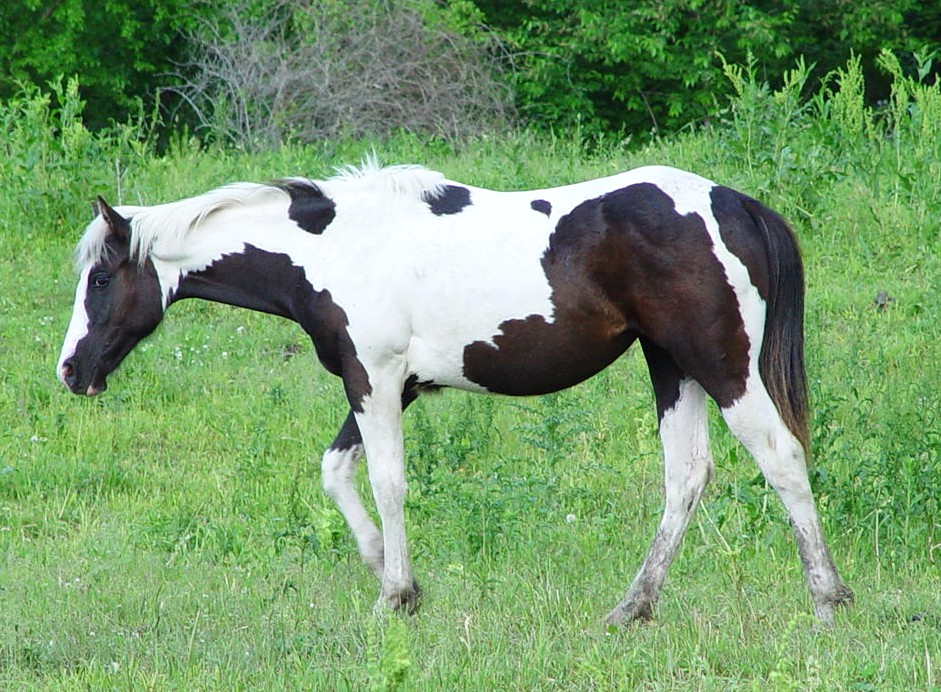 Midge is a very cute, double bred Ris Key Business filly. Her dam is the daughter of all time leading performance point earning stallion, Strait From Texas (by Ris Key Business) and her sire IS Ris Key Business. She is extremely friendly and personable. A true 'pocket pet. And she rides like one, too. Very, very quiet and easy going under saddle. Again, 30 days plus put on her the fall/winter of 2010. She's not a very big mare....14.1 or so....but she's about as broad as she is tall!
Tested homozygous for the black gene.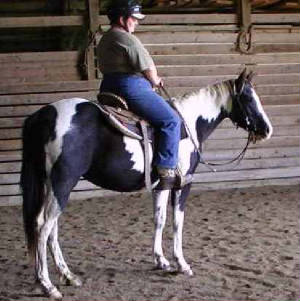 Diaman H Ris Key Tigg
2006 black tobiano
Sire: Ris Key Business
Dam: Noble Leona
Tigg gave us a beautiful, big colt last year (2012). We really debated on whether or not to breed her back....and finally decied that if we were cutting back on breeding Tigg should be left open for 2013. In spite of the fact that her colt is one of the best of the 2012 foal crop, Tigg was such a great riding mare a couple of years ago, it would be a shame not to get her going under saddle again and get her sold as a riding horse. But, as much as you will love this mare as a riding horse, don't forget you are also getting a mare with proven broodmare potential. Great mother, awesome foal(s), and a (double bred) OWN DAUGHTER of Ris Key Business!!
($3000)
Diaman H Jessies Risk (839829)
2005 bay tobiano filly
Dam: Jessie Jill (AQHA)
Sire: Ris Key Business
Diaman H Jessies Risk

APHA #839,829

Ris Key Business
Cheyenne Moon Bar
Mr Highland
4Bars Moon Deck
Happiness Is
Cherokee Siemon
Miss Pioneer
Jessie Jill
Jessie Leo James
Savannah Bar Toby
Susie My Tiger
Delmars Cody Jill

Delmar's Cody

Beaver's Cody Jill
Pedigree generated by PedigreeQuery.com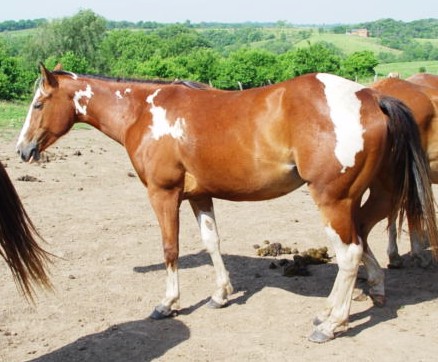 Jessie is our last (2005) spotted filly from Ris Key left to sell. With her bold personality, she should make an excellent show horse. She took the saddle really well this past fall (as all the yearlings did......not really a 'bucker' in the bunch). She's becoming very quiet and friendly.
30 days arena riding (October), then spent the month of November going down the road and on the trails. Tackled a 20 mile trail ride with all new horses on her first trip off the farm. NO PROBLEMS. Put out to pasture for the winter in December.
**UPDATE** another 30 days on this filly started June, 2008. Very talented, cooperative young mare. Someone could really make something out of this one!!
Stands a good 15 hands...and she is just plain gorgeous!
($4000 - terms to show home)
NOW $2950
Will be bred in 2013 2013....probably....or might just keep using her as a riding horse. She REALLY rides well in the arena and on the trails!!
This mare is WELL BROKE. Walk, trot, lope on the correct lead. Moves off leg pressure, pivots, etc. She will go anywhere you point her on trails. She is very coordinated and very athletic. She has plenty of gas, so she is NOT for a beginning rider (although she is being used for advanced beginner riding lessons). She is not only used to being ridden western but because she is forward moving she also does really well and looks really good under english tack.
UPDATE: July, 2012. Didn't breed her for 2013. We are riding her and using her as a lesson horse instead. She WILL be the first mare bred to Kash once she starts to cycle in late April/early May. Guarantee (equal odds for both) of either bay tobiano or black tobiano. 50/50 chance of homozygous tobiano and/or homozygous black. About as close to a 100% guarantee of a big, beautiful foal in 2014 as you can get!!
http://youtu.be/Cxvh6SxCrW4
Diaman H Blue Risk
aka One Eyed Jack
2007 blue roan gelding
Sire: Ris Key Business
Dam: Skips Blue Music
]Jack has been rescued. The top photo was taken May 18th, 2012.
The bottom two photos were taken the day we picked him up from the ARL in November. He had been gone from our farm only 3 months before the Humbolt Co Sheriff seized him and 9 others. Not sure how a horse can lose that much weight in 3 months..... Jacks biggest handicap in this home was his sweet, laid back attitude. As you can see, that personality type doesn't fare well when you have to fight for survival.
Jack is a nice riding horse. He rides in the arena, but prefers the trails. Jack lost an eye when he was only a couple of days old. Other than giving him an extra foot of lead rope so he can look around a bit more than other horses, and talking to him when approaching him just to make sure he knows you are there, there is nothing about him that would make you suspect he has only one eye. That's probably the advantage of growing up that way......he doesn't know any different. Jack is VERY sweet, friendly and easy to get along with. Jack is a quiet and calm riding horse. Jack is a VERY intelligent and loving horse.
Jack's next home will be carefully screened. Otherwise we might just keep him around as our own personal riding gelding. He's big and stout enough, and quiet enough, that even Mike is comfortable riding him.
If you think you have a suitable home for Jack, let us know. We wont' be giving him away, but he will be inexpensive for the right owners.....and we will require a 'first right of refusal' buy back guarantee.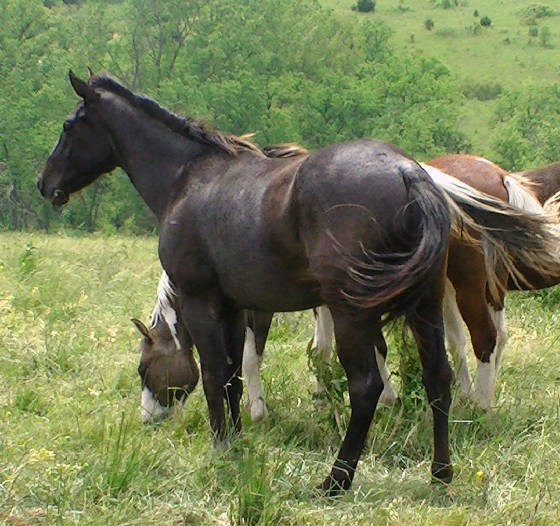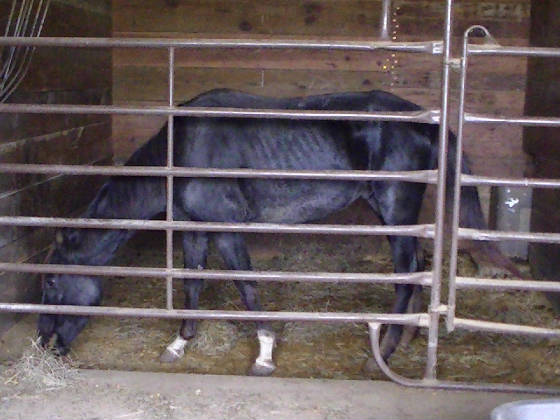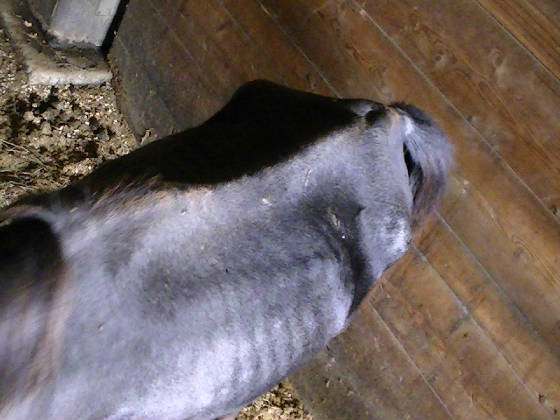 This is a quiet, gentle, friendly gelding. We will have him riding well this summer (2012) and his price will increase by the cost of his training fees.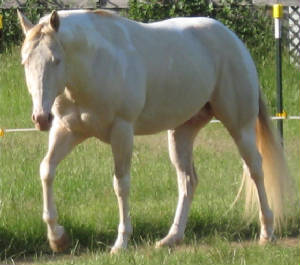 BBR BOO KOO RYSK 4/9/2005. 14.2 hands.
Owner says:
$9,500 (I will look at serious cash offers especially if I could retain some breedings. I would send him back for 30 days refresher with the trainer if I got my asking price).
August, 2012 ....GELDED
He is registered as a perlino tobiano although he is technically a smokey cream (dna results E/e, a/a - caries both black and red gene, and is recessive for the agouti). Being a double dilute stallion he will only produce buckskin, palomino, and smokey black foals when bred to non-colored mares. He is negative for Herda, and heterozygous for the tobiano gene. He is also negative for OLWS (obviously since there are no overos in his pedigree, but I paid for the test because you would not believe how many uneducated people saw his color and could not wrap their brains around the fact that he could not be a carrier of lethal white).
"Boo" is extremely nice to handle. For a stallion, you just can't ask for a better disposition. He is the only stallion that I have ever handled that does not test boundaries or act aggressive (at all even during breeding). Not even mouthy. He is a little stand-offish with people he does not know, but warms up to you. He is easy to catch in the field, no vices of any kind. He will stand tied all day, easy to give shots, worm, trim, ect. I have him stalled with a run next to a yearling gelding. He is only 12 feet away from mares that are cycling and he is still very well behaved in the barn. He has live covered and been trained to the phantom. He is great for both. He has 2 foals on the ground. I will attach photos of them at the bottom. They are NICE babies. He has 2 years of cutting training with John Kittleman (a proven trainer who is very well know around here). He was ready to start club cutting, and almost ready for NCHA when I had to pull him out of training last November. I just can't afford to keep him in training. I don't have cows (or the knowledge to train him on my own) so, I am stuck. I have a little bit of video on youtube. I will attach them. One is of John cutting on him, and the other is me. I am a BEGINNER cutter, so my video basically shows him babysitting me while I make a lot of mistakes :) In both videos the cows were pretty used up, and he was a little bored with them. He does much better with cows that face up to him and challenge him a little. Boo was also a great horse to take out to gather the cattle. In fact, I think that he liked it more than cutting. So, he was ridden outdoors a lot when he was in training. I don't have anywhere to trail ride without hauling, so he has only been ridden in the arena since he came home. He has NO vices under saddle, but would need lunged if given time off and requires a intermediate to advanced rider as he is sensitive like most cow horses, and does need to be loped down. Given his disposition, I believe that he would be a nice first time stallion owner's horse.
Boo's sire : Riskey Man (x Ris Key Business) is a NCHA and NRCHA open money earning stallion, and he produced money earners in reining, cutting, and working cow. He had foals in 35 states, and several foreign countries (most were shown). Boo was to be the next herd sire in their breeding program, but his sire Riskey Man died tragically and his owner was so heart broken that she sold every single horse that she owned :(
Boo's Dam: Dandy Miss Mira was unshown due to injury. She is by DurnCutterDandyBoy who is a high producing stallion in NRHA, NRCHA, and NCHA events and also multiple APHA offspring who have qualified for the World Show. He is a Cutter Bill bred stallion. Dandy Miss Mira is out of Crimson Sassy Doc (full sister to Crimson Sassy Doll - dam of HB Instant Choice). She is an NCHA money earning mare and a legendary 1 of 3 full sisters who were all high earning and producing mares. Their sire Crimson Three is an APHA Reserve National Cutting Champion, superior cutting, and ROM reining and working cow stallion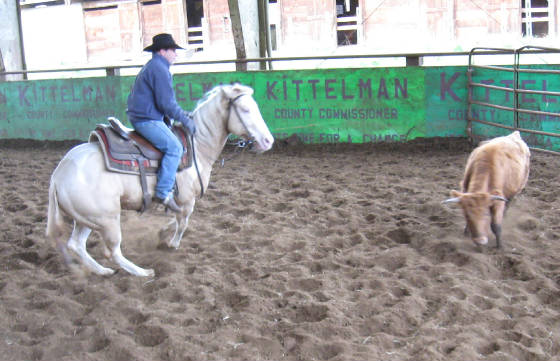 "Boo" is located in the Pacific NorthWest. If you are interested in this stallion, let me know and I will put you in contact with the owner.
August, 2012
Boo is now a gelding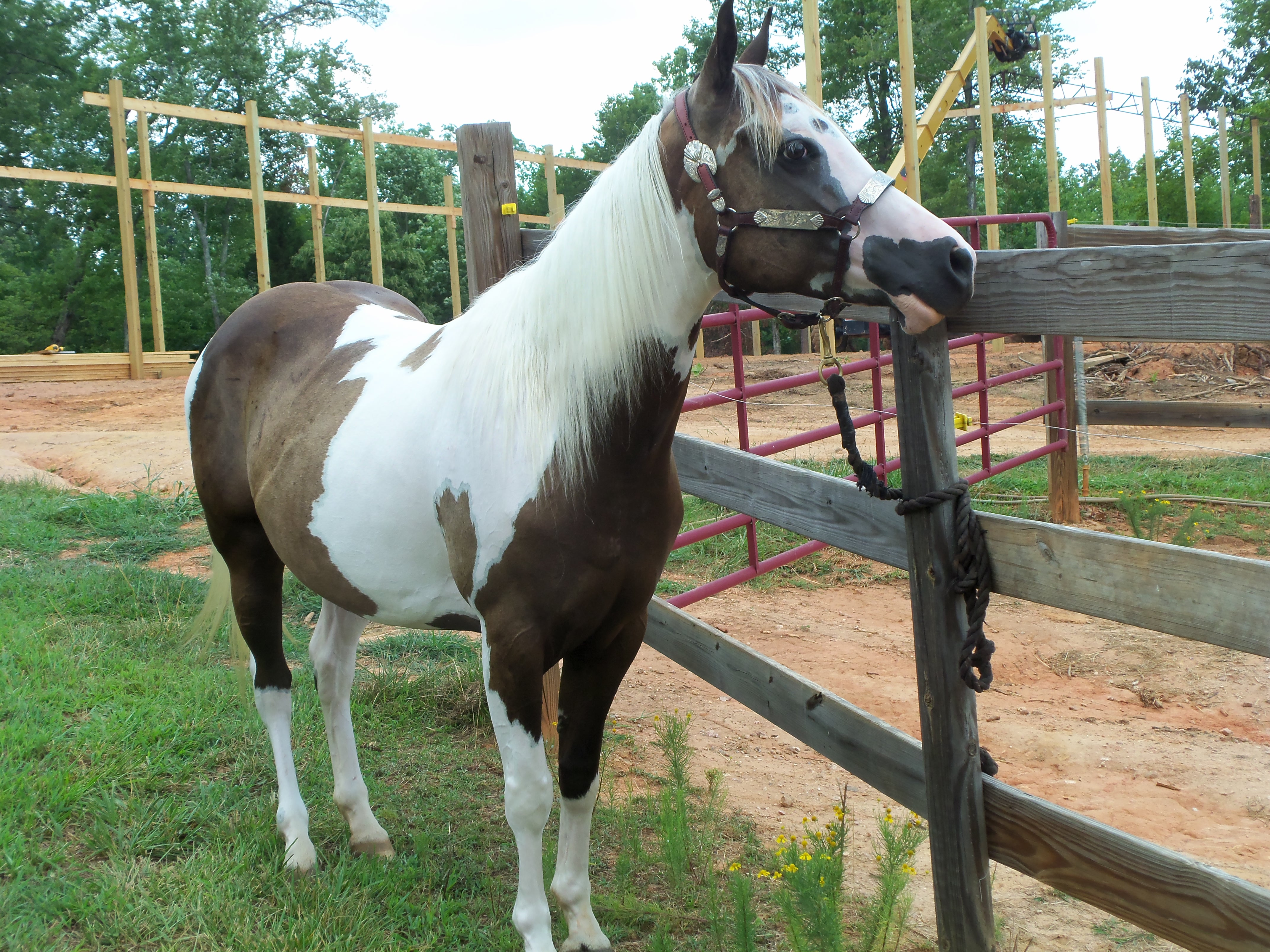 Sagebrush Cheyenne is a 2006 granddaughter of Ris Key Business, pedigree attached. Cheyenne stands 14.2 hands. She has been under saddle since 2009, accumulated 38+ points in Reining and Ranch Riding (western pleasure) in her first season competing in American Ranch Horse Association "all age" and "open" events, earning "Honor Roll" status. Cheyenne is a bright young mare with a sweet disposition and she learns quickly. She behaves and performs exactly the same way in every arena, no worries about blow ups or stressing over new venues. No vices, no limitations of any kind that we have encountered. Cheyenne's price is $10,000.00. Her trainer is available to discuss her potential in Working Cow Horse or other events.
Owners, John and Kathryn Filipovich, Gaffney SC will also be happy to discuss Cheyenne; additional photos and video can also be made available.
RisKey Addiction
2004 black mare
Sire: Ris Key Business
Dam:Princess Tiger Lily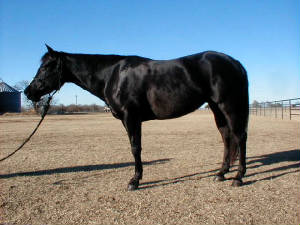 for sale by owner.
Located in Texas
Owner says:
She has had 6 months reining training and 6 months of cutting training. She is not finished in either. I pulled her out of reining training - due to the fact he told me she was not an open horse and thinks she would be best at cows. The cutting was going really well - but could not afford anymore. Her skill level - not a kids horse - she is very broke but not for kids.- she has alot of energy...I feel she would be best at ranch work, cutting, roping- head or heel, team penning, etc. maybe even barrels She is excellent on a trail, She is a horse that needs a JOB...She is sound, current on all shots, float, coggins, wormers etc. She clips, loads etc.
As for price - the horse market is really bad here as it is everywhere.... - but I would like to at least get $4,000
Contact me and I will forward info to owner in Collinsville, Texas.
Frisky Riskey
2000 black tobiano mare
Sire: Ris Key Business
Dam: (jet deck bloodlines)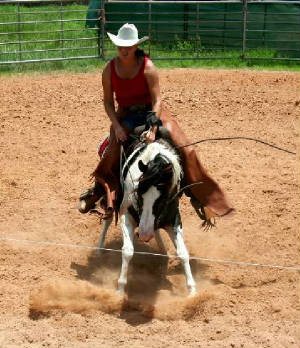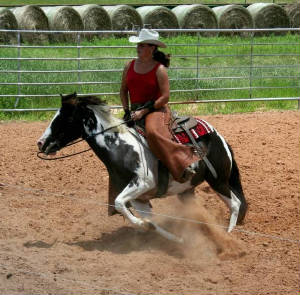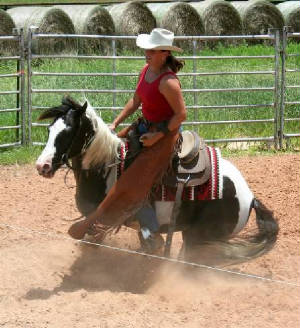 For sale, by owner.
Located in Texas
Owner says:
I never, ever thought I would consider selling this mare! And I am very picky of who buys her. I have too many horses. I am broke, and she is just going to waste. I would rather let someone else buy her and show her. She could be a World Champion herself. I have had two babies from her, but I am having to give up breeding due to this economy. And I sure dont have money for showing. So I would love her to go to someone who can. I just pulled her out of the pasture and worked her on the cow cutter and she was even better than she was before she had the babies. I guess she has matured and become very focused. Maybe she has been bored and appeciates it more! These pics are pretty good but her video is even better. We took these pics after we had shot several minutes of video. It was 90 something degrees and the sand is very deep. She was just pulled out of the pasture and so very out of shape...so to get nice pics like these, I am very pleased. And this was without the multiple frames per second option available on other cameras. We will have her video posted on youtube hopefully be the end of next week.
Also, she is a little tyke but very strong. And she has just been on badly maintained pasture, no feed. So she gets prettier than this on good feed. She is 14hh and to give you an idea, I am 5'10'' and have very long legs. She is very expressive. She is very brave, and has never thought about quiting a cow. She loves the game. She was never completely finished. I had taken a "once in a lifetime job" and that is why I had to quit on her. I deeply regret that now! The only thing she is lacking is just more neck rein training needed for making your cuts. She could also be finished out for working cowhorse and reining which was her fathers specialty.

This mare is also a prospect for cattle versatility awards. We have done alot of ranchwork with her and I could also see her being a great heeling horse. She is lightning fast (due to her Jet Deck breeding) and could get you anywhere you want in a flash. She could also do the speed events. She can do these things and then go right back to the cutting pen. She is very gutsy. She has worked buffalo and big bad bulls twice her size. She is very agile and easy to move where ever you want her
Contact me and I'll put you in touch with her owner.
($5500)
NO RISK HERE
2003 bay tovero gelding
Sire: Ris Key Business
Dam: Madeara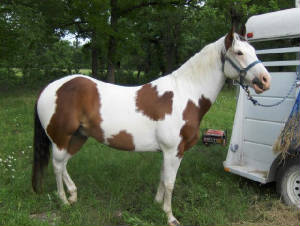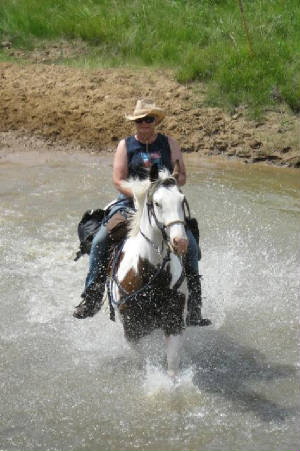 FOR SALE BY OWNER
Bay Tovero Gelding (registered - No Risk Here; foaled 5/30/03) sired by Ris
Key Business. No Risk Here's dam, Madeara, won all of her futurities as a
weanling and then shown again as a 2-year-old and earned Halter and Western
Pleasure Points.

No Risk Here is a beautiful horse that catches everyone's eye. He is a big,
strong, sound, athletic horse. Measures 15.1 hh. Has low withers so is
actually a much bigger horse. Has outstanding hindquarters. Is an
experienced trail horse who doesn't tire out and has had training for
Extreme Cowboy competition. Has a smooth trot and lope. Trots slow and
fast. Has an easy jump. He crosses water, wooden bridges, teeter-totters.
Goes through hanging noodles. Had Peter Campbell training -- moves each
foot individually. Neck reins, backs, sidepasses, turns on forequarters and
hindquarters. Had 4½ months with trainer. Smart. Get him to do something
twice and he's got it.
Stands for farrier well, loads, comes when called, stands well tied, bathes.
Up to date on worming and vaccinations. Easy keeper. Very sensitive guy.
Needs an experienced rider with a gentle hand. Great potential for the
right owner
Located near Kansas City. Contact me and I'll forward owner's information.
$4500