REFERENCE SIRES: We still have foals by and mares in foal to the stallions listed below, as well as breeding available to most of them.....but the stallions themselves are no longer with us. They have either been sold, or they have passed on.
Sand Peppy Twist
Dun It With A Twist

Hollywood Dun It
Hollywood Jac 86
Blossom Berry
Peppymint Twist

Peppy San Badger
Freckles Twist
Freckles San Peppy
Mr San Peppy
Leo San
Peppy Belle
Freckles Paycheck

Colonel Freckles
Eddie Rosita
Pedigree generated by PedigreeQuery.com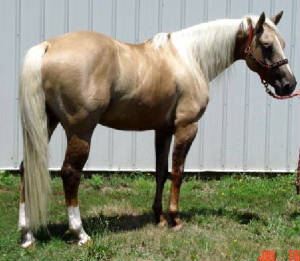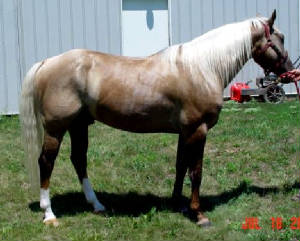 Enter content here
Sand Peppy Twist (Twister) sire - Dun It With A Twist. By $5 million sire Hollywood Dun It and out of the great Peppymint Twist, whose cutting earnings exceeded $260,000.
Dun It With A Twist won the Tradition Futurity. Next, he became the NRHA Futurity Open Co-Reserve Champion, scoring 223. In total, Dun It With A Twist has lifetime NRHA earnings of over $99,860 with very limited showing.
Perhaps just as importantly, Dun It With A Twist is proving to be phenomenal sire. As of 6/2005, he has produced earners of over $179,303, and multiple futurity champions. http://www.mcquaystables.com/breeding/stallions/DunItWithATwist.htm
Twister's dam is an NCHA money earning daughter of Mr San Peppy out of a daughter of Colonel Freckles. MR SAN PEPPY
| | | |
| --- | --- | --- |
| NATIONAL CUTTING HORSE ASSOCIATION | $ 107,866.02 | Earned thru 01/01/1981 |
Peppymint Twist (1979-2005)
Earner of over $221,000.
1984 NCHA Finals, 3rd Place.
1983 NCHA Cutting Horse Derby, 1st Place.
NCHA Cutting Horse Derby Championship shared with Smart Little Lena
Offsprings Winnings:
Doc O Lena Twist - $83,651
Freckles Fancy Twist -$98,000
Paddys Blue Twist - $8,950
Little Twist Olena - $55,000
Dun It With A Twist - $102,000
Lenas Smart Twist - $29,840

Earning of over $400,000.
Twister will throw 'colored' babies (palomino/buckskin/dun/grulla) on at least 75% of the mares he is bred to, since he does carry two distinct dilute genes (creme and dun factor).
Twister is now in a show home, near Green Bay, Wisconsin - and will be campaigned.
Ask me for his new website.....and info on breeding to him in 2010 and beyond.
I have two yearly breedings for sale.....
Twister stands a hair over 14.2 and 950 #. While he's not what we usually look for in a stallion (we prefer THICK bodies and HEAVY bones), he makes up for it in quickness and athletic ability. ...and then there's his incredible pedigree.....
Diaman H Tardy Joe (AQHA 4533555)
2004 palomino stallion
Sire: Roses Flashy Joe (see him at bottom left corner of this page)
Dam: Toll Free Trump
10/02/2009 SALE PENDING
11/2/2009 **SOLD**
Diaman H Tardy Joe
Roses Flashy Joe

Chicado Joe
Chicado Go
Misty Joe's Girl
Black Faith

Charley Fisher
Mos Gay Flash
Toll Free Trump
Toll Free Tardy
Tuff Order
Jeanie Red Baron
Leada Trump

Lead A Bonanza
Sugar Joy
Pedigree generated by PedigreeQuery.com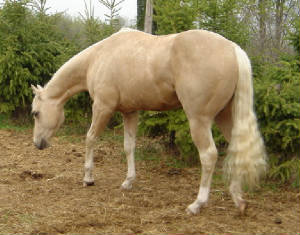 I can't say enough good things about this guy. He's a young stallion with more sense and good manners than most geldings. You can walk him through a pasture of mares in heat and not get a reaction from him. This guy has a gorgeous light gold color, excellent bones - straight and heavy - and look at that tiny little head and ear!! He looks halter (stands 15.1 at age 2, and does have a full brother with halter points), but is bred to do cow work. He has at least two 1/2 brothers that have been used in the PRCA for roping/steer stopping. We leased him out, and he was bred to a couple of mares, spring 2007. He's back home now so will continue to ride him through the fall and winter. He rides just like all our 'Joe" (Roses Flashy Joe) babies always have - with tons of 'try', great athletic ability and speed - and rarely a buck in any of them. With his laid back attitude, he might just become my new, favorite, trail mount. Don't need a gelding to ride when you've got a stallion that has the disposition to handle two jobs!
**TJ now stands 15.3 and weighs in at 1300 pounds.**
2008 stud fee: $300
muliple mare discount
Diaman H Tardy Joe
2004 - 2010
REFERENCE SIRE ONLY>>>>
Roses Flashy Joe
1980 AQHA palomino
***please note*** Joe is 21 and 22 years old in these photos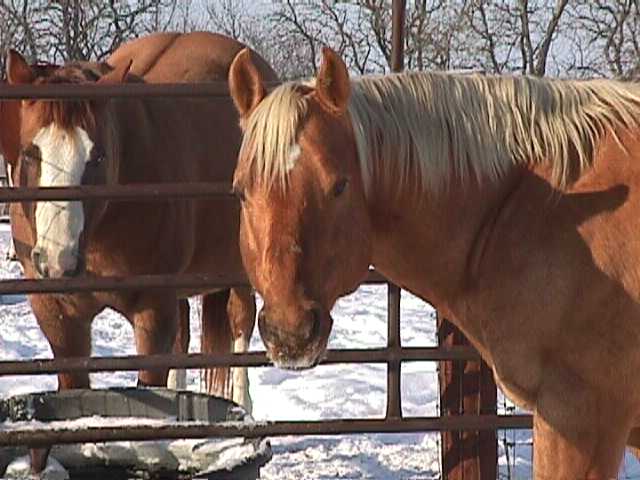 SIRE: Chicado Joe (si 88) (by Chicado Go, (si 101)
DAM: Black Faith (gdaughter of AQHA Legends - Little Jodie and Bertie Weimer)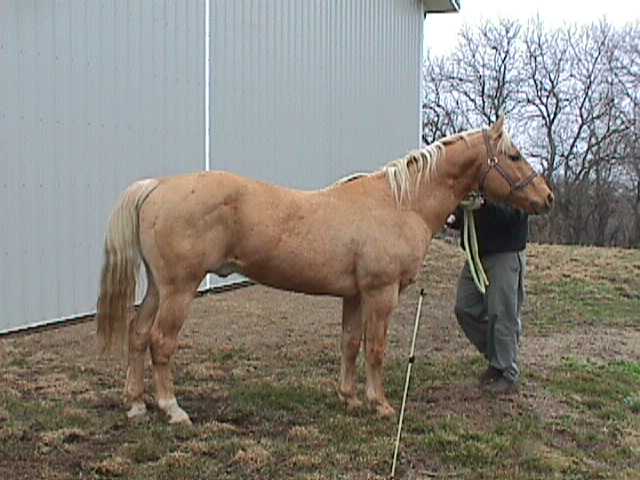 'Joe' is everything you look for in a foundation QH sire. He has very short, heavy cannon bones, large hooves, great hip and chest and beautiful head and ear. His look matches his 'old fashioned', versatile pedigree which contains many names found in the "Legends" books.
Joe is a sweet old guy that stands around 15.1. As an added bonus, he is throwing more than his share of dark palominos and buckskin foals.
Roses Flashy Joe
1980 - 2009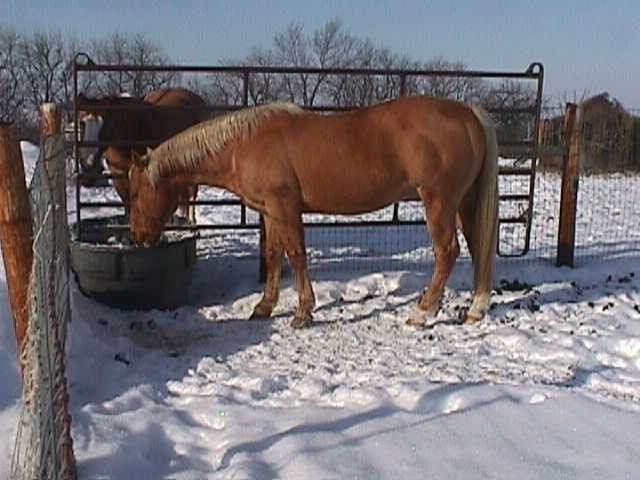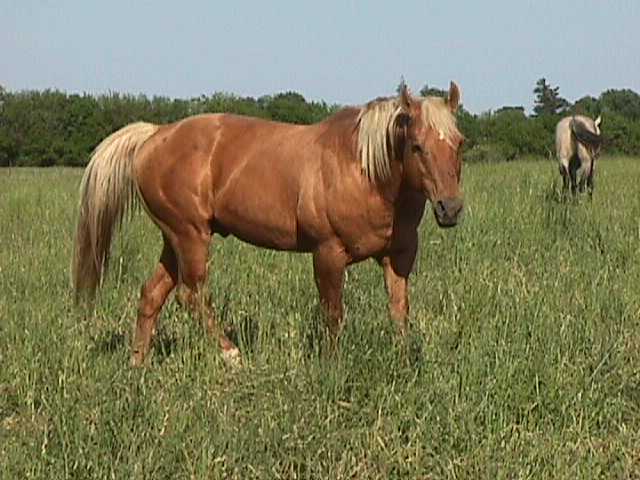 Bubba Dexter
1985 - 2012

AQHA # 2400254 • Buckskin
The end of a legendary pedigree - and an amazing horse. We feel blessed to have had him....even if was only for the last couple of years of his life....
While we only had 2 foals from Bubba in 2011, we did breed a half dozen mares to him in 2011 for Bubba's final foal crop in 2012.
Most are currently for sale.
FQHA 100% foundation
Bubba Dexter 2400254 1985 buckskin stallion

SI: 0 Starts 0 Wins: 0 2nds: 0 3rds: 0 Earnings: 0 Hlt Pts: H- 0.0 Perf Pts: P- 0.0

SIRE side of pedigree
Buddy Dexter 1947
0016341 bay
H- 11.0 P- 0.0
Dexter 1936
0000193 bay

Cutter Bill 1955
0053703 palomino
H- 15.0 P- 334.0
Little March 1941
0001670 sorrel

Billie Silvertone 1939
0000574 palomino

Silvertone 1935
0000190 palomino

Cutter's Dix 1970
0709147 palomino
H- 1.0 P- 0.0
Star Light 1959 1936
0000236 sorrel

Hard Twist 1942
0005555 chestnut
95 33 14 7 2 $ 6,319
Cowboy 1922
0000012 sorrel

Dixie S Twist 1953
0042182 sorrel
75 19 1 3 2 $ 821
Mame Taylor 1934
0006990 sorrel

Cotton Eyed Dixie 1944
0015770 brown

Little Rainie 1939
0002053 brown

Flying Princess 1935
0012688 sorrel


---

DAM side of pedigree
Poco Dell 1950
0033075 bay
H- 35.0 P- 15.0
Poco Bueno 1944
0003044 brown
H- 37.0 P- 8.0
Chubby Poco Dell 1963
0273076 brown H- 17.0 P- 27.0
Shady Dell 1946
0017875 dun

Chubby Rachelle 1957
0101881 sorrel
H- 28.0 P- 13.5
Chubby W II 1947
0018281 bay

Dells Fancey 1976
1184938 bay

Rachel Girl 1946
0023991 sorrel

Illini Hand 130 1962
0210541 dun

Illini King 1952
0043195 chestnut

Illini Lady 119 1972 0884835 buckskin

Lady Beaver 130 1950
0053644 dun

Alejos' Girl 119 1966
0445190 sorrel

El Alejos 1958
0085447 chestnut


Pep's Lady 119 1958
0106044 black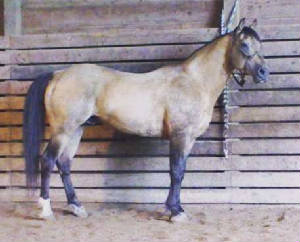 Enter supporting content here